Eudoxie - a motorcycle clothing brand that gives you real rock'n'roll vibes! EUDOXIE is created by powerful women, for powerful women. Behind the brand stand four French ladies who all have a great passion for motorcycles and motorcycle clothing. Want to find out more? Read the Moto Lounge blog. 
---
New brand in the Moto Lounge collection - the French leaders Helston's & their motorcycle story! 
Read about Helston's products that are available in the Moto Lounge - lady motorbike gloves, women's motorcycle jackets, mc accessories and more. 
---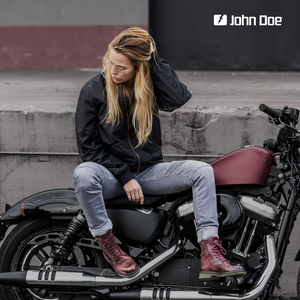 John Doe is a German motorcycle clothing brand, that makes high-quality protective apparel for motorcyclists since 2001. The brand focuses on safety, urban streetwear look and comfort, trying to create their clothes as comfortable as possible. John Doe pays great attention to the safety of the clothes and undergoes CE certification with all their products. Every seam, every pocket, and every single centimeter of fabric is thought out down to the last detail and tested under maximum loads before it goes out on the road with CE certification. They are always on the hunt for the optimum solutions and therefore...